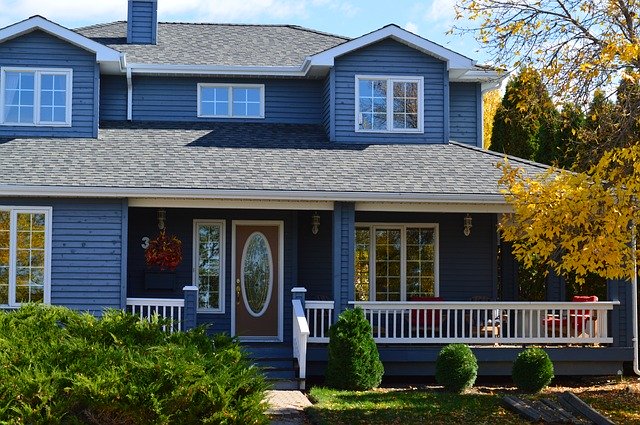 Looking to boost the curb appeal of your home? Updating the exterior of your home is a great way to attract home-buyers to your property or to make something old feel brand new. Updating can come at a steep cost, but you can use the following ideas to freshen up your home without breaking your budget:
Repaint your front door. A simple coat of paint can do wonders to refresh the look of your home. It's an inexpensive way to quickly change the entranceway. Depending on your taste, you can choose a door colour that complements or contrasts with the exterior of your home. You can also add a wreath to the door, or change an outdated door handle to one that is more modern.
Sod your lawn. Does your front lawn need a manicure? A dry and patchy lawn will detract potential buyers. People want to see luscious and green grass, not a brown and scrawny lawn. One way to instantly achieve the perfect lawn is to lay sod. There are many advantages of sod lawns. You won't have to wait for the grass to grow, and you only need to refrain from walking on it for two weeks. A sodded lawn has dense grass that will require less water than a seeded one.
Add garden lights to your front lawn and driveway. There's no sense in updating your home if no one can see if. Add outdoor lighting so that your house is visible even at night. A dark property looks uninviting. Placing lights outside your house will make it look warm and welcoming.
Plant a garden bed. A well-tended garden gives the impression that your property is taken care of. It's one way to add colour without spending too much green. A few popular and affordable plants that you can add to your garden bed are azaleas, roses, annuals, and daylilies.
Wash the exterior of your home. Over time, dirt and debris build up on the outside of a home. To allow the colours to shine, use a garden hose to spray the dirt right off the walls – just remember to be careful around the doors and windows. 
Clean your driveway. Having an unkempt driveway leaves the wrong impression on passersby. Although it's convenient to place your garbage and recycling bin there, consider moving them to where they're out of sight. To improve your driveway, clean up the areas that surround it, and park your car in the garage or where it's out of sight. That way, nothing impedes the view of your home.
Repaint the exterior of your home. Does the paint job of your home need refreshing? It can be an arduous task, but updating the colours of your home will increase its curb appeal. Exterior house paint usually lasts 7-10 years. How often should you repaint your home? The answer depends on the climate of where you live and the quality of paint used. Repaint the exterior of your home to dramatically increase curb appeal.
Wash the windows. Sparkling and clear windows will allow people to appreciate the finer details of your home. A dirty, spotted window will distract from what you want people to notice and compromises the quality of your property. Simply cleaning the windows will improve the curb appeal of your home by making it look cared about.
Trim the trees. Any low hanging branches that impede the view of your property should be trimmed; it will make your property look neat and tidy. If you have an unsightly tree in your yard, consider having it removed to clean up your lawn.
Add outdoor furniture. Adding chairs or sofas to the exterior of your home will create a welcoming and inviting vibe. Adding curtains to your patio or a welcome mat to the front door are small, personal touches that make a big difference in the overall curb appeal of your home.
Opt for natural stone pavers – One of the best methods of transforming your outdoor space is by using pavers. It can convert your backyard into a fully usable and functional space. This is especially useful for those who prefer to use their outdoor space for family or friends get-togethers. Outdoor sand and unlevelled land can make the furniture placement uncomfortable.
Recap:
Curb appeal is important when selling your home, or making it feel like it reflects your taste. Whether you want to increase the value of your property or just refresh the look of it, improving the curb appeal will make any house feel like a home. To upgrade the exterior of your home, use these inexpensive tips that will instantly boost the appeal of your property.