1.3K Flares
1.3K Flares
×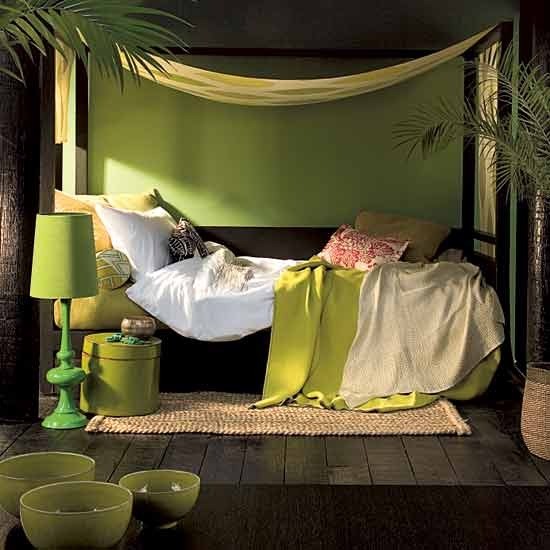 Everyone knows that some colours are more suited for bedroom decoration than others. When choosing the colour scheme of yours, you need to take into account the psychology of colours, as believe it or not they DO make a difference. If you want to start your day feeling relaxed and full of energy, you should consider using green or ocean blue.
Green is the colour of nature, it is globally recognized as one of the most soothing colours in the entire palette. A green bedroom can be designed in numerous ways, including re-furbishing your old furniture, adding mural wallpapers, buying green set of linens, combined with some throw-pillows. In this article, I am going to show you some of the most amazing green bedroom designs.
Before we begin, let me just remind you that plants are also green, and their presence in the corner of the room should not be underestimated. In addition, you have to remember to let fresh air in by cracking a window open for at least 30 minutes a day (I know it is as hot as hell outside, but try to stick to this rule). Using room accessories like curtains and lighting fixtures in green will also give an edge to your bedroom design.
Green Bedroom with Stripped Wallpaper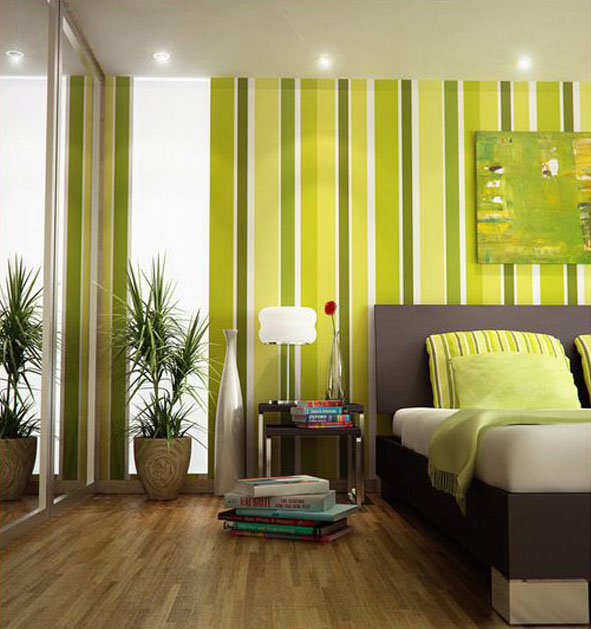 By simply changing the colouring of the walls, and replacing the plain paint with stripped green and white wallpaper, you can totally revamp your interior design. Don't be afraid to mix different shades, and to include a centrepiece like an abstract painting.
The Bamboo Wallpaper for a Wild Green Bedroom
If you are not a big fan of bright colours, and soothing themes, you can always jazz up your interior décor by creating a mysterious, exotic touch by placing mirror doors on your wardrobe, and covering one of your bedroom walls with bamboo wallpaper. All you need to complete the design are some romantic, a bit dim lighting fixtures, and you will have a modern green bedroom.
Bold Green Bedroom
The intricate usage of pastel green for the walls, combined with subtle brown curtains and carpeting, is certainly a design worth to be placed on the home décor magazines. Not only do the colours calm the eye, but they are also very practical. The cleaners Albert Park believe that natural browns are amongst the most practical carpet colours, as they can withstand light soiling, and "hide" most types of stains.
New Age Royal White and Green Bedroom
Want to feel like a queen in your bedroom? This classic, yet modernized, décor will help you fulfil your dreams. The best thing about it, though, is the fact that you can just repaint the furniture and the walls, and you are all set – two types of paint, some elbow grease, and you have the bedroom, you have always fancied.
Who Said Blue and Green Can't be Combined?
Cheerful lime green and sweet baby blue can make an intricate combination, when you pick up the colour scheme of your kid's bedroom. Not only are these colours full of joy and life, but you can come up with funny, even crazy, accessories to add a finishing touch to the bedroom décor.
XOXO
Sam
Samantha Winterland (Sam) is the owner and creator of Best Home Ideas. Having graduated from the Withehouse Institute of Design Australia, she has devoted her blog to exploring the latest innovations in interior design. Sam admits she loves everything DIY and is always ready to face a new challenge.